POINT1 So convenient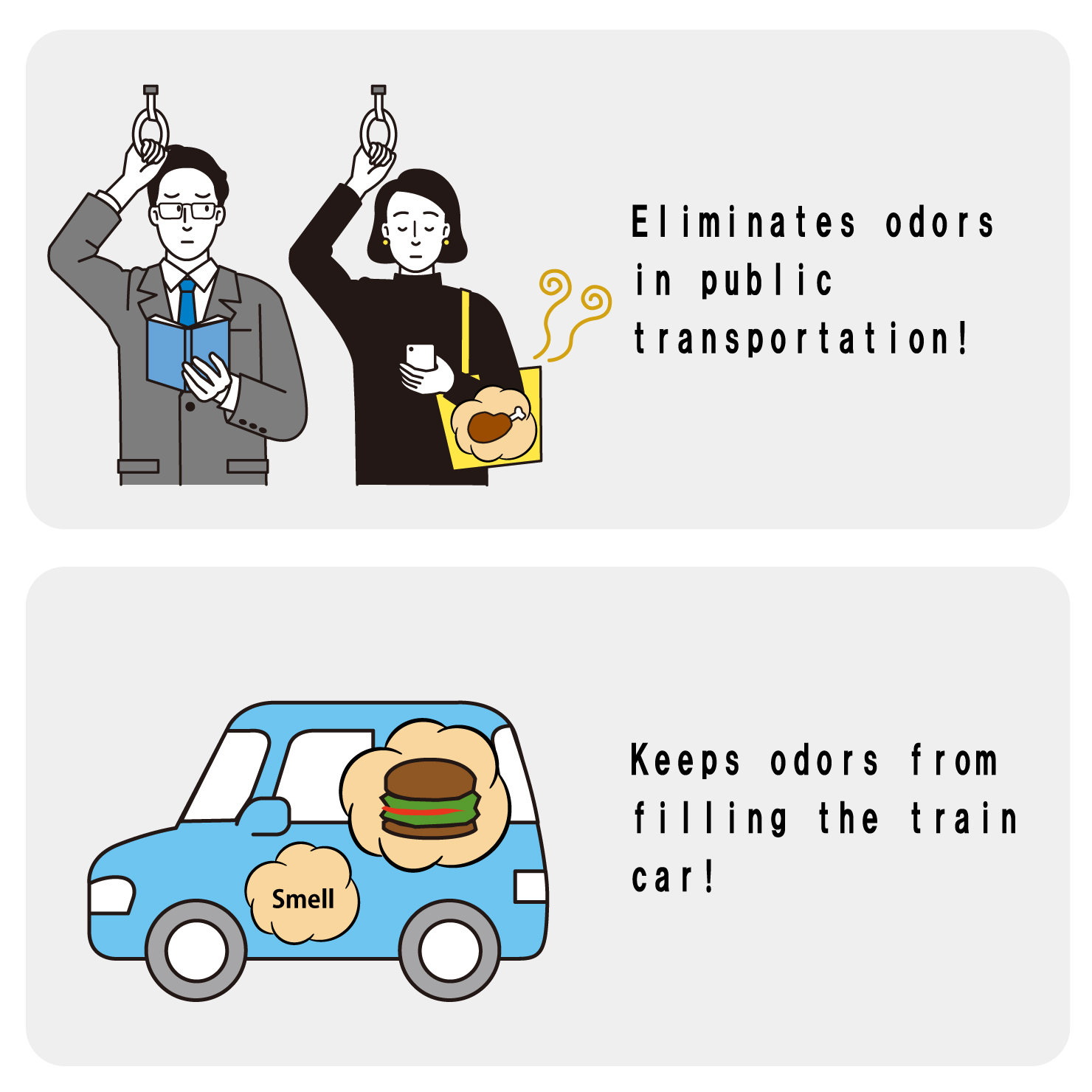 When you bring home hot food (freshly made fried chicken or steamed buns), it smells quite bad in the train car when you use public transportation.
The smell of a takeout fast food hamburger. It's hard to get rid of it when it seeps into the car.
If you have a TAKEOUT BAG, you can take out food on the train or in the car without worrying about the smell.
Shutting down bothersome smells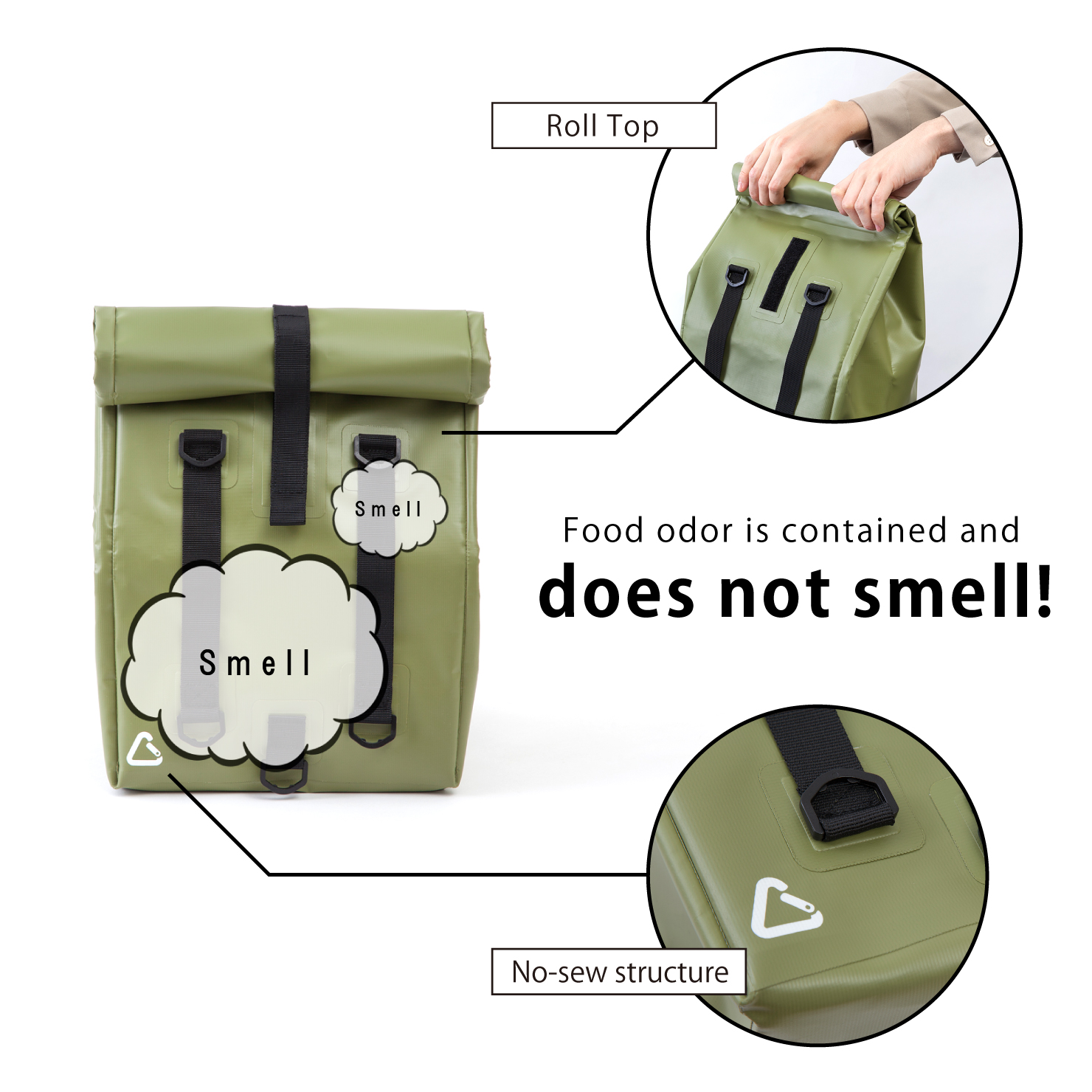 The roll-top opening reduces food odor leakage. In addition, the use of highly water-repellent tarpaulin fabric and no-sew thermocompression bonding prevents leakage not only of odors but also of liquids if they spill inside.
Don't worry about getting dirty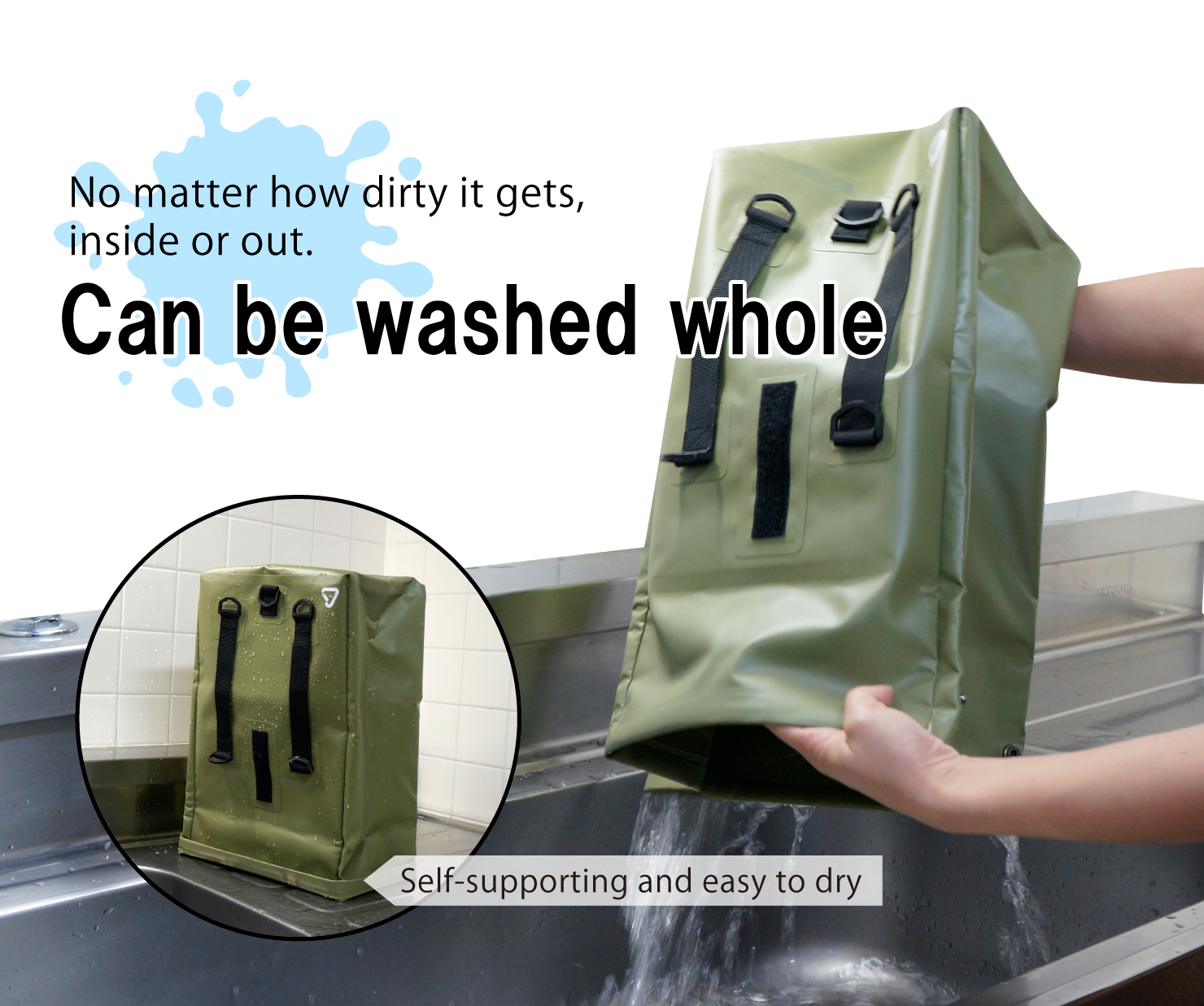 When food slips in your bag and spills inside and causes a catastrophe,you can rest assured that your TAKEOUT BAG is highly water-repellent.In addition, it does not stain easily and can be easily washed in water even if it gets dirty.The fabric does not easily soak up dirt, so you can keep using it cleanly.
POINT2 Can be used in 3 ways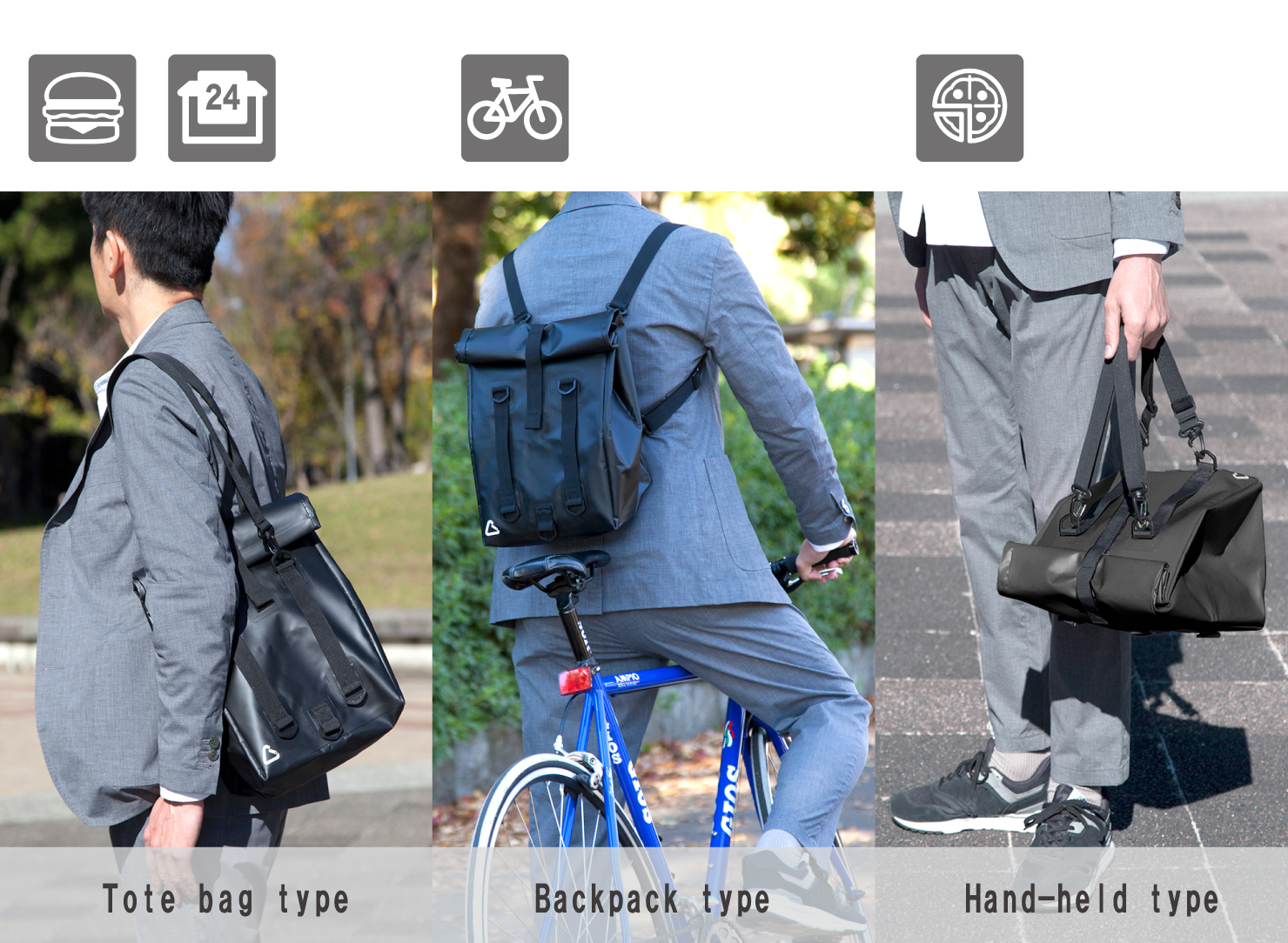 ①When the carabiner on the handle is placed at the top, it can be used as a tote bag.This shape is suitable for takeout from a burger store or convenience store.

②When the carabiner on the handle is placed on the back, it can be used as a backpack.When you are commuting by bicycle or carrying a lot of luggage, it is convenient to use a backpack so that both hands are free.

③When the carabiner on the handle is placed in the front, it can be used as a hand-held bag that can hold a pizza.The bottom of the bag is wider, so it is suitable for holding a M-size pizza.
POINT3 Compact and easy to carry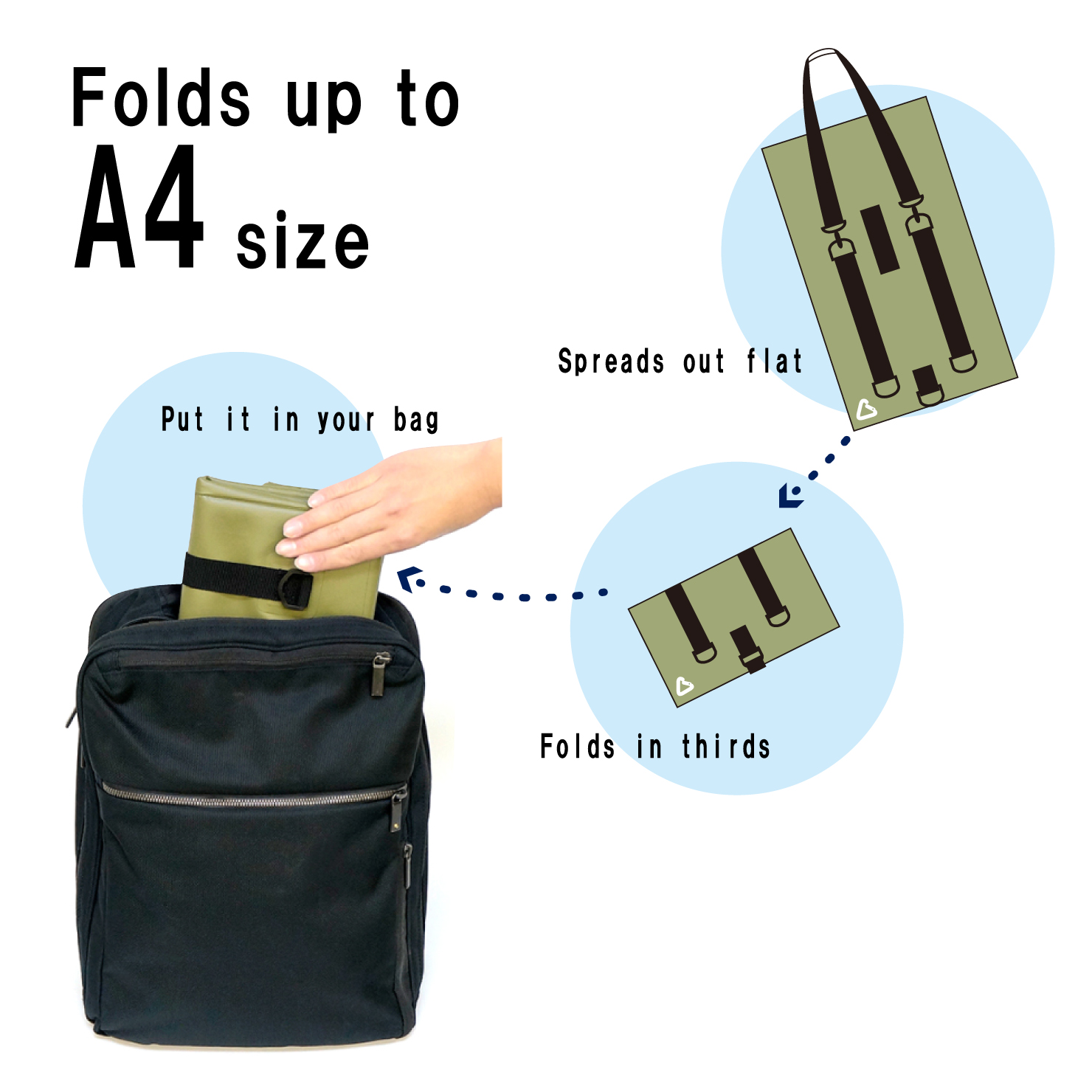 It folds up thin and compactly, so you can carry it in your everyday bag.
Product details
Material

Main material:Taurpalin,steal
Carabiner:Polyacetal, Steel
Straps:Polyacetal,Polypropylene
Colors

Green / Black / Gray
Dimensions

200x240×430mm (Straps:Minimum 400mm, Maximum 750mm)
Weight

450g
Holds up to

About 15L
Precautions

● Please ensure that the carabiner is properly attached when using this product.
● The adhesive part is strongly crimped, but it does not guarantee complete leak-proofing. Please note that we do not recommend using this product as a bucket.
● Please note that the size may vary by about 1cm during the manufacturing process.
● This product does not guarantee odor resistance or water resistance.